Thank you all very much for your interest and efforts to participate in this first international competition of the World Trumpet Society. We had 59 participants from 13 countries: Argentina, Australia, Brazil, Canada, Hungary, Japan, Mexico, Peru, Poland, Portugal, Russia, Spain, and the USA.
We very much enjoyed listening to your music. Congratulations to the finalists, and congratulations to all!
Please check the website for the repertoire of the finals.
Finalists in alphabetical order:
Etude Competition
High School
Tiago Batista Melo, Portugal
Andrew Bryant Rojas Lujan, Peru
Marco Malatesta, Argentina
Ryo Morita, Japan
Matvey Plekhanov, Russian Federation
Nicholas Weaver, USA
Oliver Zhang, USA

Undergraduate
Victor Atanazio Pires, Brazil
Eduardo Chacon Castro, Mexico
Renata Gonçalves Alexandre Fonseca Cardoso, Portugal
Karol Korus, Poland
Carlos Vidal, Mexico
Henrique Weege, Brazil

Graduate
Geo Del Valle, Mexico
Andrew Jeng, USA/ Taiwan
Christopher Keach, USA
Aleksander Kobus, Poland
Christopher Moran, Australia
Alan Tolbert, USA

Orchestra Competition
High School
Dasara Beta, USA
Henry Bain, Canada
Jacob Hammarlund, USA

Undergraduate
Noah Bailis, Canada
Josh Harris, USA
Karol Korus, Poland
Carlos Vidal, Mexico

Graduate
Kyle Jones, USA
Aleksander Kobus, Poland
Charlie Watson, Canada
Alan Tolbert, USA


Jazz Competition
_______________________________
Biographies of our the WTS Performance Competition finalists:
SOLO COMPETITION:

High School

Tiago Batista Melo
Portugal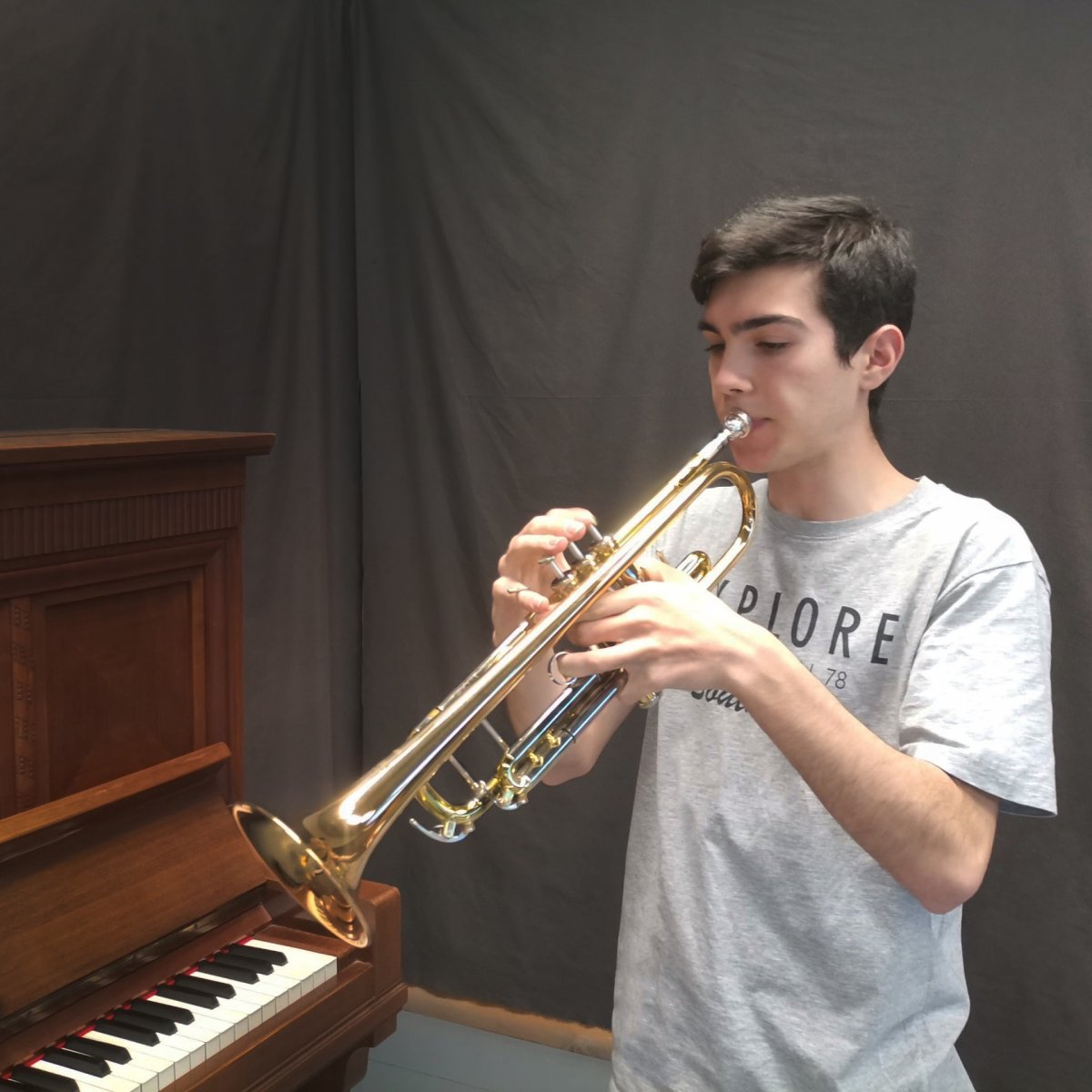 Tiago Batista Melo was born on the 10th March 2005, in Chaves, Portugal. He started his musical studies in 2013 in Banda Musical "Os Pardais" with trumpet and theory classes. In 2014, he started attending Academia de Artes de Chaves, on Humberto Vitorino's class, concluding the Basic Course. In 2020 he joined the Curso Profissional de Instrumentista also at the Academia de Artes de Chaves. He is currently attending the first year of the course. Since 2016 he is a member of "Banda Musical da Torre de Ervededo" and "Orquestra de Sopros da Academia de Artes de Chaves" in which he got several international awards, outstanding the first prize "honor mention" in the 30th "Certámen Internacional de Bandas Villa de Altea" conducted by Luciano Pereira.His participation as a soloist is remarkable in several competitions in Portugal, getting the 1st prize in "Prémio Solista" – Interpretation Competition of Academia de Artes de Chaves, C Category, in 2018 and also the 1st prize in level 2 Solo Category in the "Trumpet Competition in Póvoa do Varzim" in 2020.

Andrew Bryant Rojas Lujan
Peru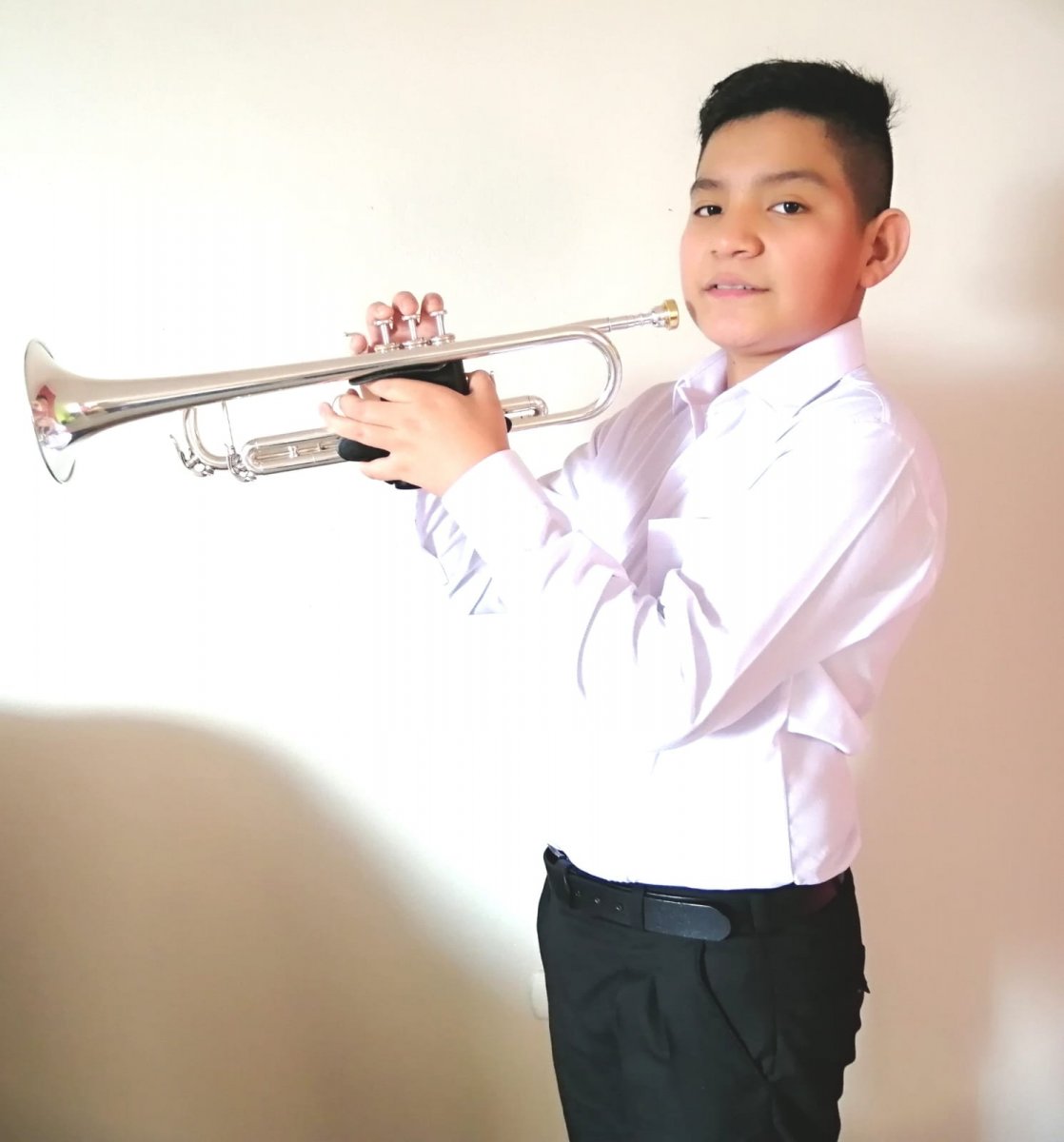 My name is Andrew Bryant Rojas Luján, I was born on May 31, 2008 in the province of Huarmey, department of Ancash - Peru, I am 13 years old. My beginnings in the trumpet occurred at the beginning of 2017 (March), my first teacher being my father, who is a popular music trumpet player and at the same time who inspired me to love and study the trumpet, doing a daily study routine ( 2 hr-3 hr per day). A year later (2018) I began to accompany my father as a trumpet player in his mariachi group and at the same time I changed my study routine (2 hr in the morning -2hr in the afternoon all day), continuing in 2019 with the same routine and taking classes with popular music trumpeters. In March 2020 I published my first videos, doing covers with my father, in one of those videos a friend of my father told professor Javier Rodolfo Pacheco Mendoza about me (trumpet professor at the National University of Music of Peru) , who at the same time contacted me and was the person who advised me to study academic music, becoming my first teacher.
In June I entered the ORQUESTANDO program in my country, meeting there the trumpet teacher Edgar Jesús Vásquez Sandoval with whom I have been taking classes until now. In July I enrolled in the TRUMPETIST OF PERU FOR THE WORLD contest that took place from July to December, occupying first place in the CHILDREN category with Professor Edgar Vásquez as Guide. Parallel to this, I took virtual classes with the following teachers: Halleyn Ruiz Polo (Peru), Paulo Viveiro (Brazil), Fredy Fuerte (Peru), Elmer Churampi (Peru). Changing my study routine from 3 sessions of 2 hours per day (6 hours). In January 2021 I received the offer of a scholarship for the High Performance center from Professor Jordi Albert (Spain) with whom I took classes between January - April.

Marco Malatesta
Argentina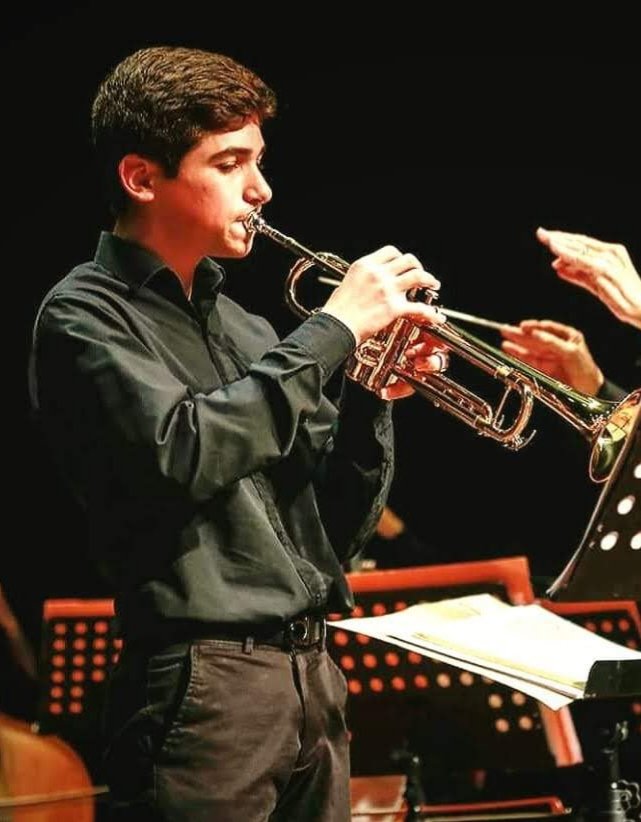 Marco was born in the city of Rosario, Argentina in 2004. He began his trumpet studies in 2015 with Jonatan Bravo and in 2018 he continued his training with trumpeter Valentín Garvie. He actively participated in advanced courses with renowned international soloists such as Reinhold Friedrich, Sergei Nakariakov, Allen Vizzutti and Ernesto Chuliá among others.
Since 2017 he has been part of the U.N.R. Youth Symphony Orchestra.
Marco has performed as a soloist with the Municipal Chamber Orchestra of the city of Rosario.He was a Mozarteum Argentina fellow for two consecutive years, period 2019-2020 and 2020-2021.

Ryo Morita
Japan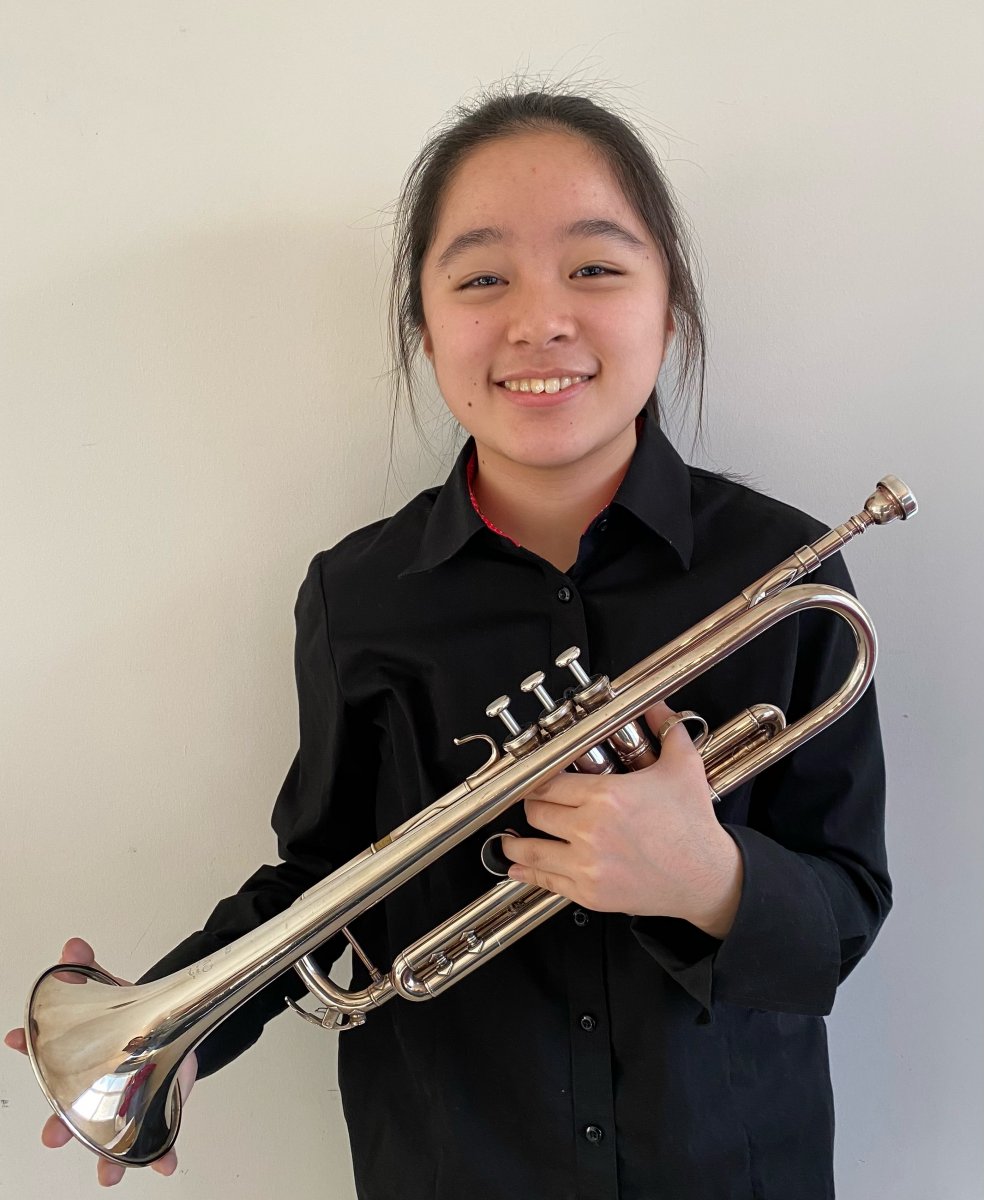 Born in Saitama prefecture, Japan, Ryo Morita started playing trumpet from 4th grade. Learn trumpet under Kiri Tollaksen from later in her 5th grade year in 2016. Has participated in MSBOA All-State Middle School band in 2017-18 and 2018-19 year as a principle trumpet. In her 2019-20 year, she participated in the MSBOA All-State High School Orchestra as a principle trumpet. Selected for MSBOA All-State High School Orchestra in 2020-21 year. From her 7th grade year, she has participated in the Michigan Youth Symphonic Band for 4 years and in the 2020-21 year, she has also participated in the Michigan Youth Symphony Orchestra. She is currently playing in Pioneer High School Symphony Band.

Matvey Plekhanov
Russian Federation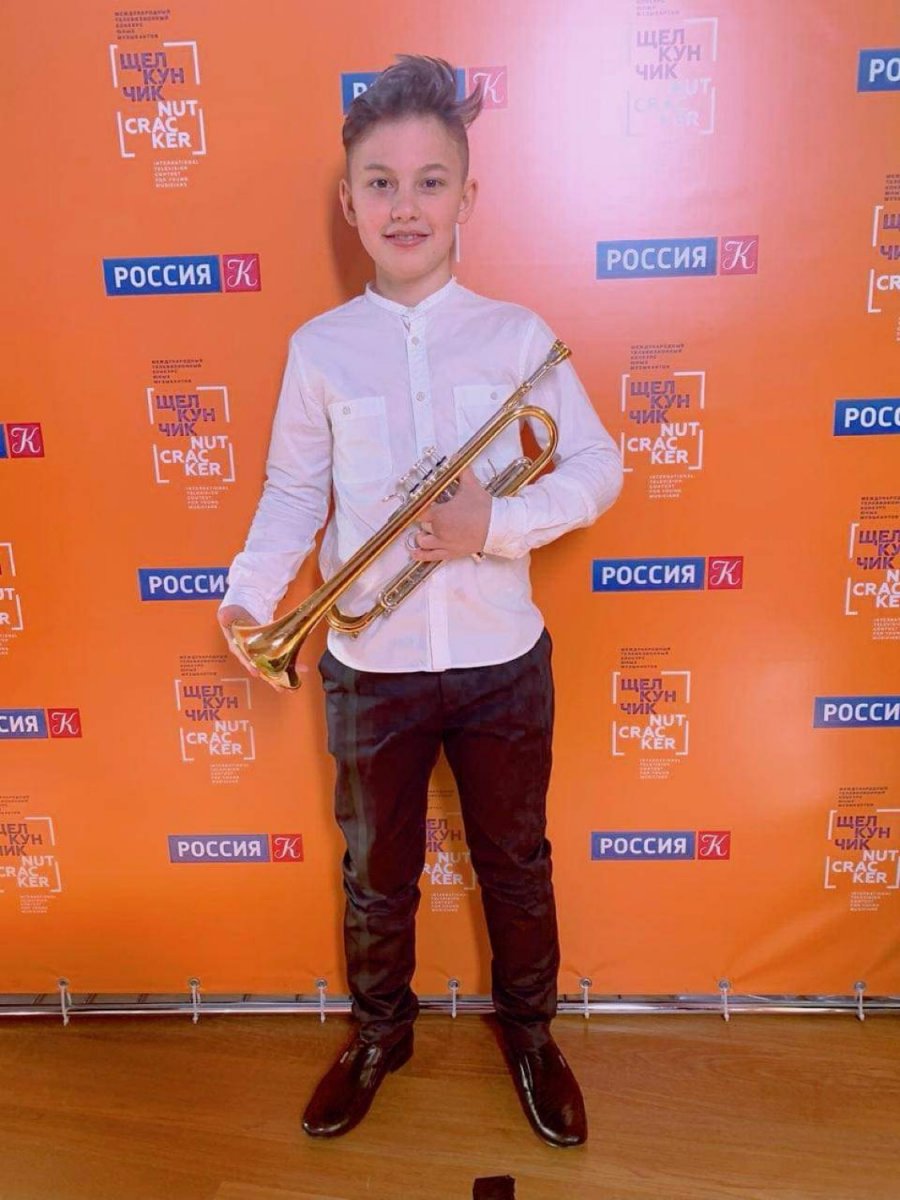 Matvey was born on September 26, 2007 in the city of Nefteyugansk in the Tyumen region. In 2008 he moved to Moscow. At the age of 5 after trial listening he was accepted to Gnesin Moscow special music school and later continued studies at the Central music school under Moscow state Conservatory named after P. I. Tchaikovsky, taught by Ivan Maloshtanov. He performed at school holiday celebration concerts as well as various music competitions, both at school and external. Thanks to participation in these events from an early age and the atmosphere of being among talented uninhibited people full of energy, he developed his performance approach – maximum effort to avoid performance anxiety, focusing on flowing sound. His repertoire includes works by Jean-Baptiste Arban, Henry Tomasi, Joseph Haydn, Franz Liszt, Sergei Vasilenko, Sergei Rachmaninoff and Alexandra Pakhmutova, while his style of performance is inspired by virtuosos such as Timofey Dokshitzer, Winton Marsalis and Sergey Nakaryakov. Matvey's hort-term plan is to participate in the XXI international television competition "the Nutcracker", and in the long term I plan to join one of the main musical events in the international music community – The Tchaikovsky competition.
His most memorable performance was Rudolf Gummert competition in Kazan in 2019. It was the first time he travelled alone to another city. This fact and the charm of the "Third capital of Russia" inspired him to make a performance which resulted in the Grand Prix award. Practicing a lot doesn't leave much free time for his other passion – sports, like football, ice skating, hockey and snowboarding.

Nicholas Weaver
USA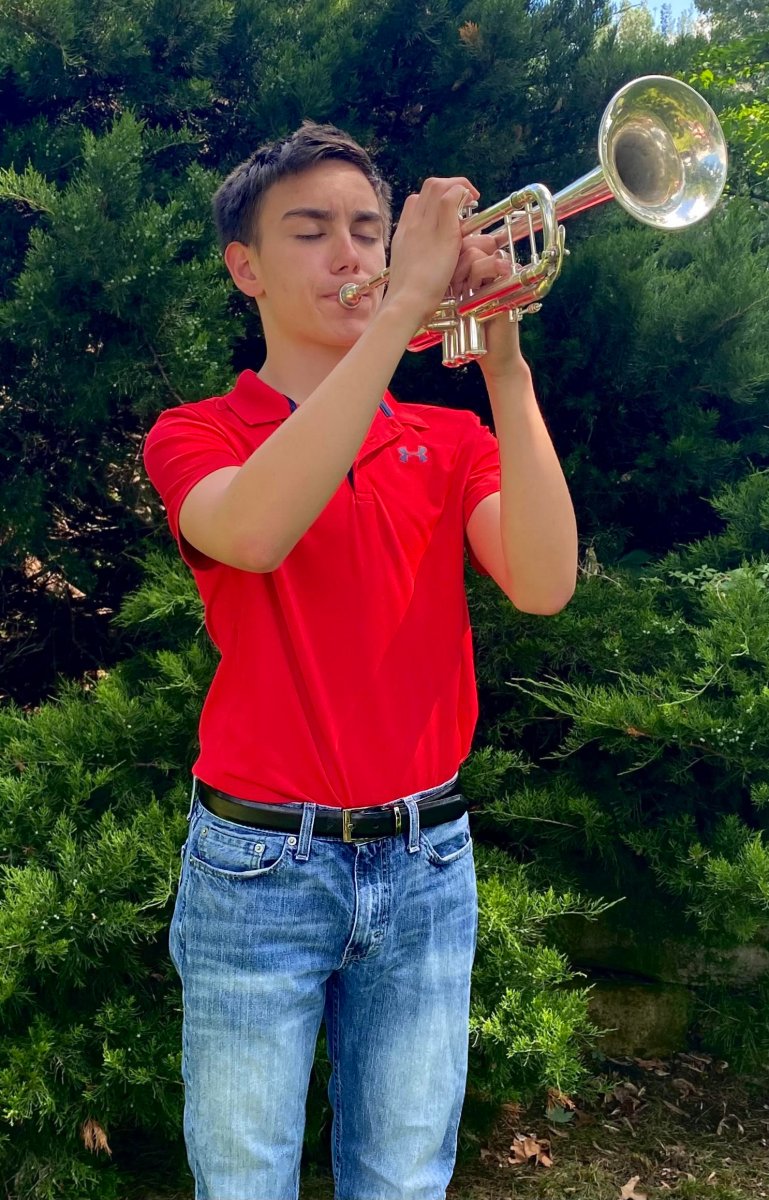 Nic Weaver (b.2005) is an entering 3rd-year student at Desoto High School, Desoto, Kansas, USA. He has been Principal Trumpet in the 2020 NAFME All-National Honor Orchestra, a member of the 2021 Kansas All-State Jazz Band, and a multi-year member of the award-winning Fountain City Youth Brass Band of Kansas City. Nic has been inspired by many trumpet players throughout his life, and some of his most influential role models include Wayne Bergeron, Louis Dowdeswell, Jens Lindemann, Selina Ott, Michael Sachs, and many others. After High School, Nic plans to pursue a career in a symphony orchestra or a US military band.

Oliver Zhang
USA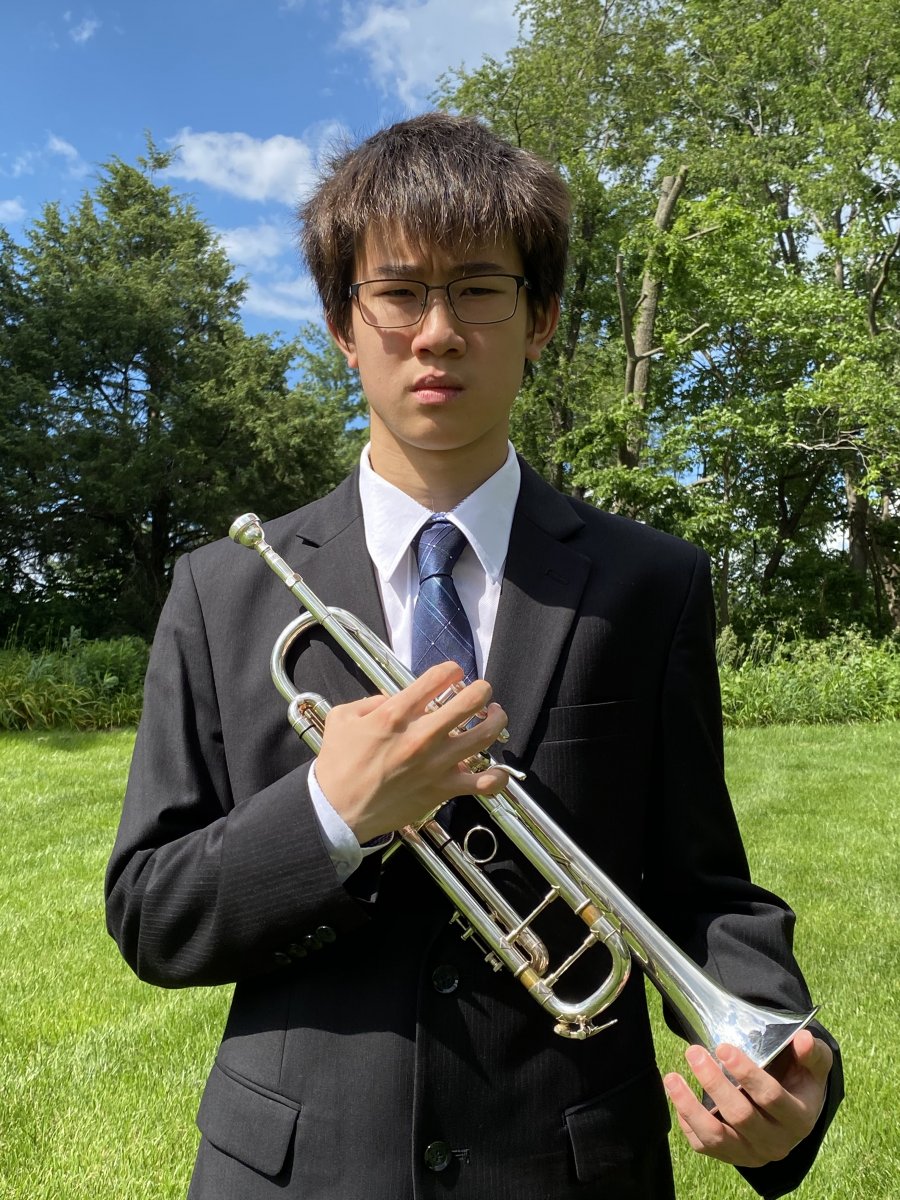 Oliver Zhang is a sophomore at Blue Valley North High School, where he performed as a soloist and section leader in the award-winning BVN Marching Band under the direction of Daniel Freeman and Joel Wagoner.Oliver began his trumpet studies at the age of seven. He has been active member of the Fountain City honor brass band since 2015, and he has performed at the North America Brass Band Association since then. In 2017, Oliver received 1st place in the North America Brass Band Association youth solo competition. Shortly after in 2018, Oliver was a finalist in the International Trumpet Guild competition when he was in 8th grade. In 2020, Oliver was the principal trumpet in the Kansas All-State Band as a high school freshman student, and in that same year, he was selected as the first trumpet in the NAfME 2020 All-National Honor Ensemble. From 2017 to 2021, Oliver has been a semi-finalist in the junior and high school solo division of the National Trumpet Competition. Oliver studies with Dr. Keith Benjamin, the trumpet professor in University of Kansas and Missouri. Oliver thanks his parents, Richard and Tina, and Dr. Keith Benjamin, for the constant support in his passion of music. Oliver looks up to his older brother David, a current Carnegie Mellon University post graduate student, and he always offers his hand to his younger brother Max when there is need. Both his brothers are interested in music as well. David plays piano, and Max plays clarinet and trumpet.
As a classical trumpeter, Oliver also enjoys jazz. His biggest inspirations include Wynton Marsalis, Sergei Nakariakov, and Maurice Andre. As well as practicing on his own, Oliver enjoys helping his peers in advancing in their skills of trumpet. Oliver wishes to spread his passion of classical music in his community. In addition to his trumpet activities, Oliver is a member of the Blue Valley North High varsity swimming team, while excelling in a heavy load of advanced academic courses. Oliver wishes to continue playing trumpet throughout his life.


Undergraduate

Victor Atanazio Pires
Brazil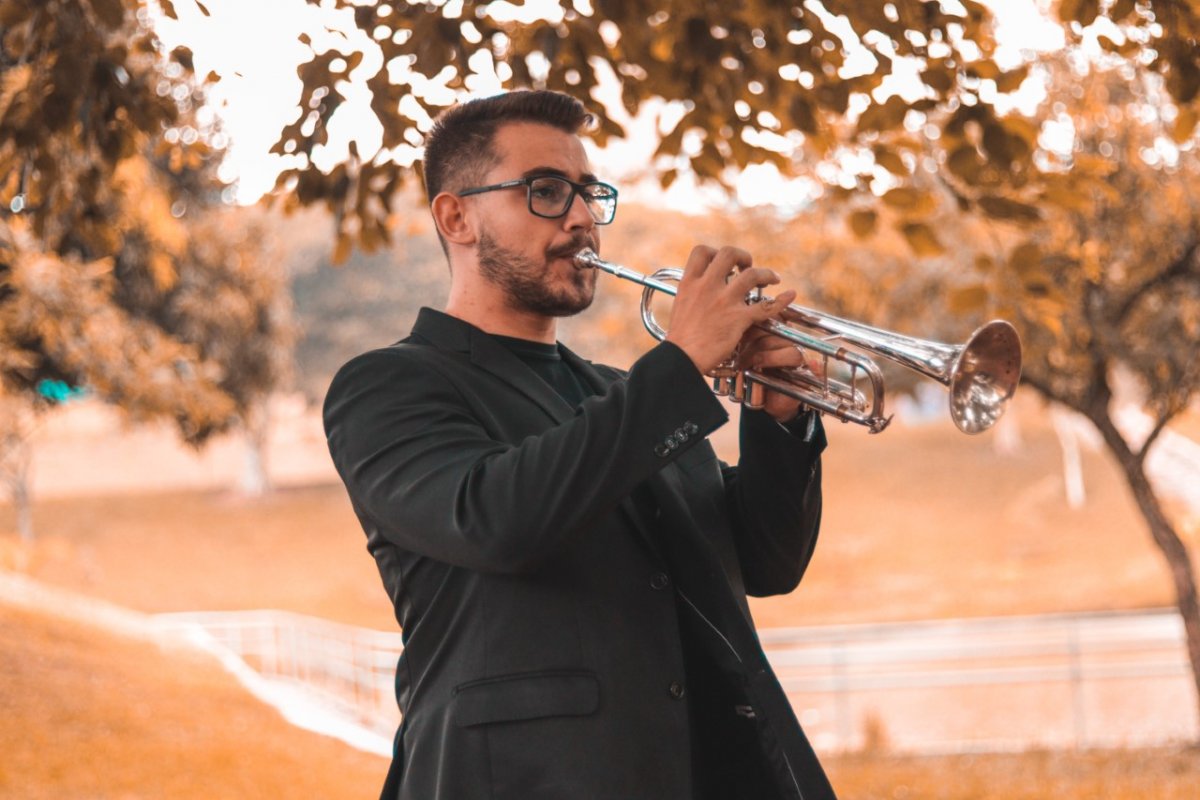 Victor was born in Bauru-São Paulo, Brazil. And it was there that he started his studies on the trumpet with Devanildo Balmant, in the Guri Project, he also studied with João Xavier in the Tatui conservatory. During his exchange student program he lived in Luboock, TX. and studied with Dr. John Kennedy and won Texas All-state 5A Symphony Band 1sr Chair, 2015 All-region, TMEA HS Symphony Orchestra 1st Chair and Solo and enssemble state competition with "Outsdanding Solo" award. Victor returned to Brasil and did his undergraduate trumpet bachalors in UNICAMP with Dr. Paulo Ronqui as his trumpet teatcher. He also did several music festivals and has experience in many groups such as Piracicaba Symphony Orchestra, Mozarteum Symphony Orchestra and São Paulo Youth Symphony Band.
Eduardo Chacon Castro
Mexico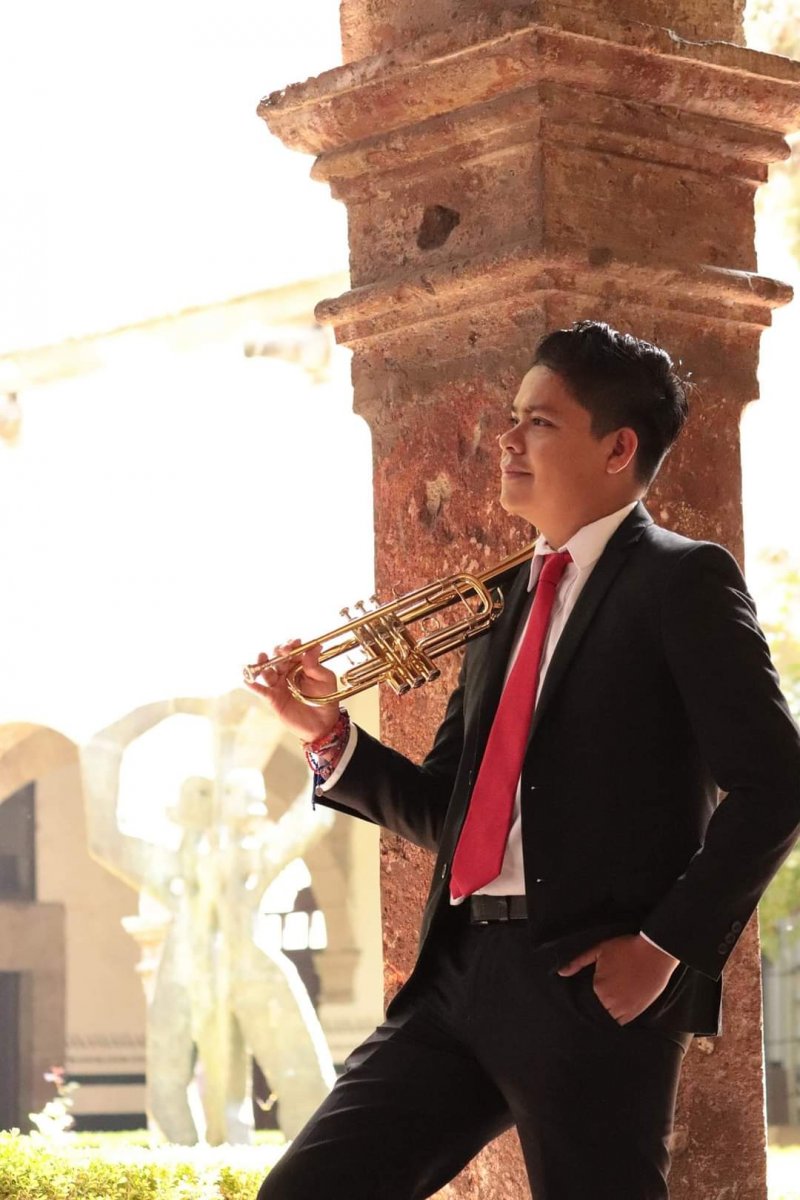 He was born on November 9, 1992 in the community of Cuitzeo Michacán México. At the age of 18 he began his studies at the Conservatorio de las Rosas de Morelia Michoacán with Alexander Freund.
He has also participated in master classes with various trumpeters and pedagogues such as: Giuliano Sommelhader, Rubén Simeo, Romain Leleu, James Ackley, Pacho Flores, Jens Lindermann, others. He is currently studying at the Costa Rican Academy with maestro Alexis Morales Barrientos. Eduardo Chacón has participated in various trumpet festivals and national and international competitions: In 2012 and 2014 he participated as a soloist in the exchange project between the Conservatorio de las Rosas de Morelia and the University of Arizona in Tucson AZ. In 2014 he getts the first place in the International Trumpet Competition "Mérida Internacional Brass Festival" in that same year he getting his bachelor's degree in Music and Humanities at the Conservatorio de las Rosas.
Trumpet Competitions: In 2017 he participated in the Cancun International Music Festival getting second place in the trumpet contest. In 2018 he participated in the "Rafael Méndez" Festival in the City of Morelia Michoacán, getting third place in the Trumpet Competition, and recently participated in the ¨Festival Hermanos de la Trompeta 2021 "in Jiquilpán Michoacán México" getting first place in the trumpet contest. He has performed as a soloist in September 2019 with the Orquesta Sinfonica de Michoacán (OSIDEM) and currently plays second trumpet. Eduardo Chacón is graduates from the Bachelor of Music and Humanities with " Honorable Mention " at the Conservatorio de las Rosas.

Renata Gonçalves Alexandre Fonseca Cardoso
Portugal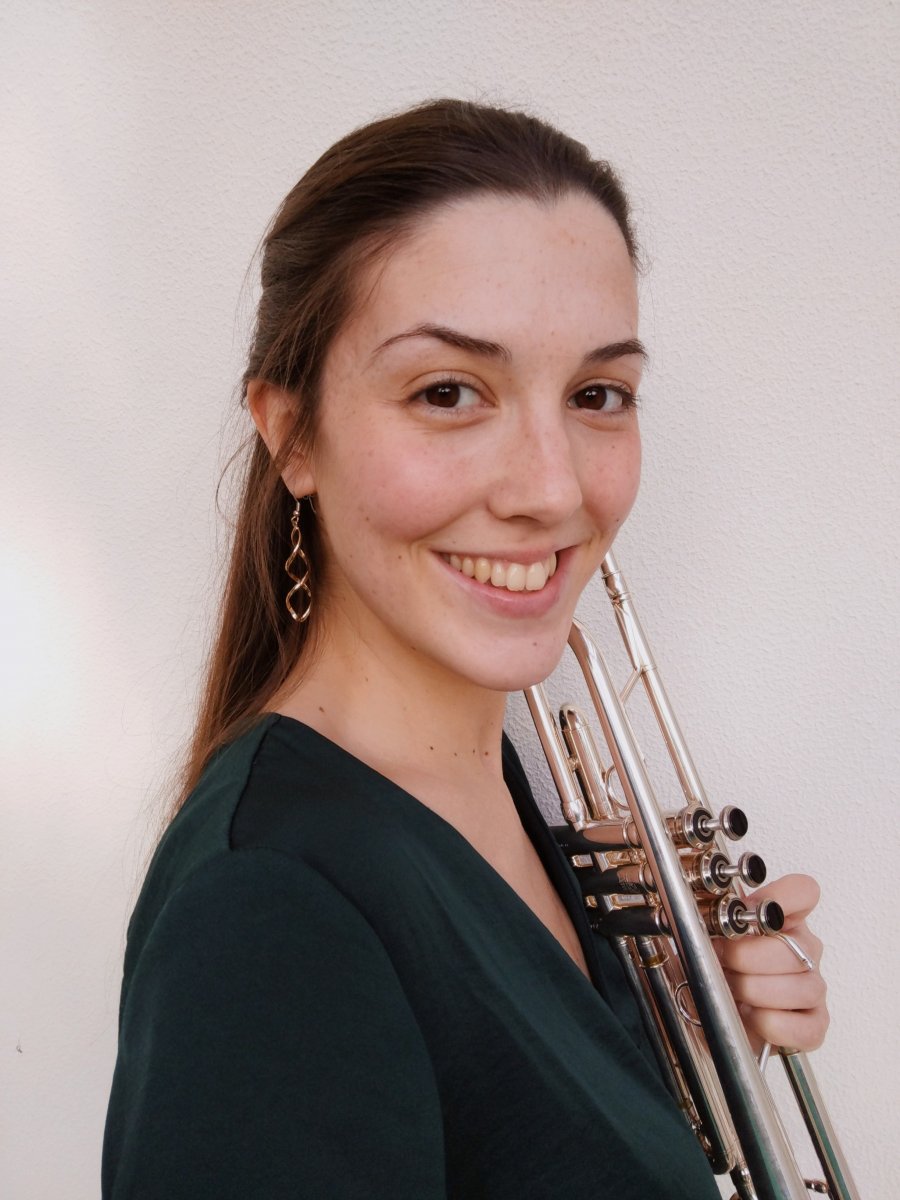 Renata Cardoso is a native of Coimbra, Portugal. She began her musical studies locally, first with Professor Adriano Franco and afterwards with Professor Jaime Barbosa. Currently, Renata is pursuing her bachelor's degree at the Escola Superior de Música in Lisbon, Portugal studying with professors Dr. David Burt, Stephen Mason, and Hugo Assunção. While a student, Renata has participated in masterclasses with Gabor Tarkövi, Frits Damrow, Pacho Flores, Clement Saunier, John Miller, John Wallace, and Guido Segers. Renata has won positions with the Youth Orchestra of the OJ.COM and principal trumpet with the Gulbenkian Orchestral Summer Institute. Renata has performed with the Gulbenkian Orchestra, the Cascais and Oeiras Chamber Orchestra, and she is a current member of the Lusitanus Ensemble. Renata has been a featured soloist and has recorded with the Lusitanus Ensemble.
Karol Korus
Poland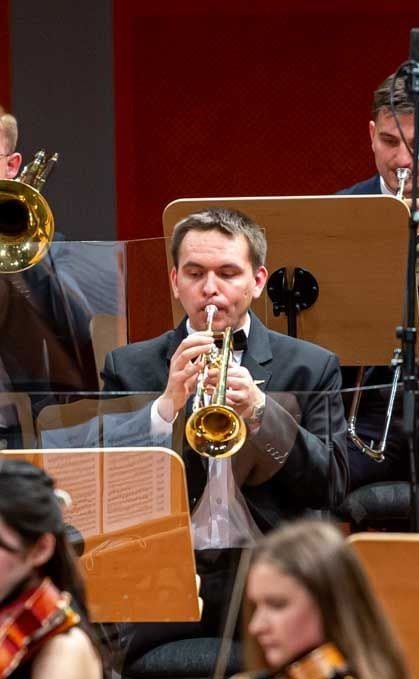 Karol was born on March 2, 1999 in Dębica, Poland. He started learning to play the trumpet at the age of 10 at Krzysztof Penderecki State Music School in Dębica. From 2013-2021, he worked with the Music and Singing Society staging operatic works by Stanislaw Moniuszko, Wolfgang Amadeus Mozart, Johann Strauss, Jerry Bock, and the Arthur Rubinstein Łódź Philharmonic. Karol also had the pleasure of participating in master classes organized in Opole and Szczecinek, where he had classes with pedagogues such as Max Sommerhalder and Jose Sibaja. Currently he is a student at Grażyna and Kiejstut Bacewicz in the Academy of Music in Łódź in the trumpet class of Sławomir Cichor.

Carlos Vidal
Mexico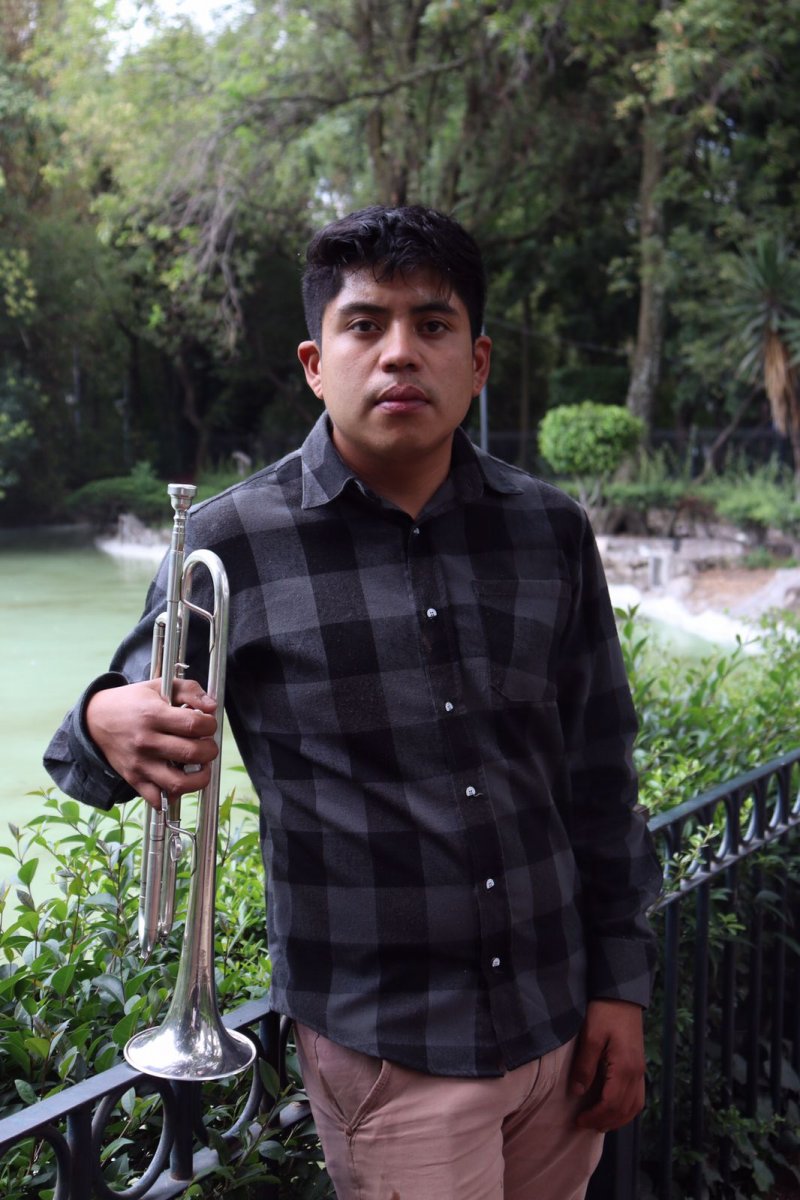 At the age of 8 Carlos Enrique began his musical studies with his father Leonel Vidal Santos (principal trombonist of the Symphony Orchestra of the State of Hidalgo) and started playing the French horn. After playing horn for 2 years, he decided to change to the baritone horn. When15 years old, he decided to change to his current instrument, the trumpet and became a student of Alberto Sánchez Cárdenas (principal trumpet player of the Symphony Orchestra of the State of Hidalgo). At 16 he played as a soloist with his father's symphonic band (BANDA HERMANOS VIDAL BAND) at the Texcoco Festival and Contest and won second place. He took lessons with Alex Freund (Germany), Otto Sauter (Germany), Héctor Tomas (Mexico), Giuliano Somerhalder (Switzerland), among others. When he was 18, he was a finalist in the international competition "Hermanos de la Trompeta" in Michoacan. At 19 he competed in the band contest in Huixcolotla, Puebla, where he won second place as a soloist. That same year he was accepted at the Instituto Superior de Musica of the State of Veracruz (ISMEV) where he studies with Jeff Smith (principal trumpet of the Xalapa Symphony Orchestra). At the age of 20 he was invited to join the brass ensemble of the Symphony Orchestra of the Autonomous University of the state of Hidalgo, with the same orchestra he has also performed symphonic concerts. Carlos is a member of the Youth Symphony Orchestra of the ISMEV. In 2020 he was one of the semifinalists in the Latin American competition Colombia in Orchestral Repertoir. In 2021 he is a member of the Sinfonieta Morelia. In 2021 he won second place in the International Contest Hermanos de la Trompeta Trumpet in Jiquilpan Michoacán.
Henrique Weege
Brazil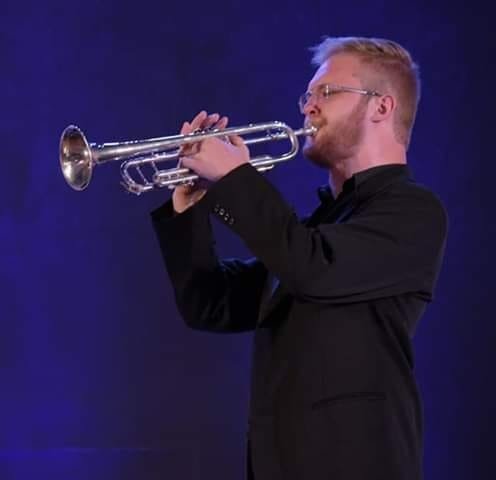 Henrique Weege is a trumpet player from Corupá, Brasil. He started his musical studies at age of 6, in the music school "Jazz Band Elite" in his hometown. At age of 19, was studying at "Escola de Música e Belas Artes do Paraná", and at age of 21 started to play in the "Orquestra Juvenil Heliópolis", studying at "Instituto Baccarelli", in São Paulo – SP. While he was in São Paulo, Henrique had the opportunity to play in tours with names such as Maria Rita, Frejat, and Andrea Bocelli.
In 2019, at the age of 22, Henrique won the first prize and the Public Choice Award in the Youth Soloist Competition (V Gramado in Concert); in 2020, at age of 23, Henrique won the first prize at "Felipe Ubillús Trumpet Competition", in Lima – Peru; also in 2020, Henrique was part of the first class of the OAcademy; in 2021, Henrique won the third prize at the Ryan Anthony Memorial Trumpet Competition.



Graduate
Geo Del Valle
Mexico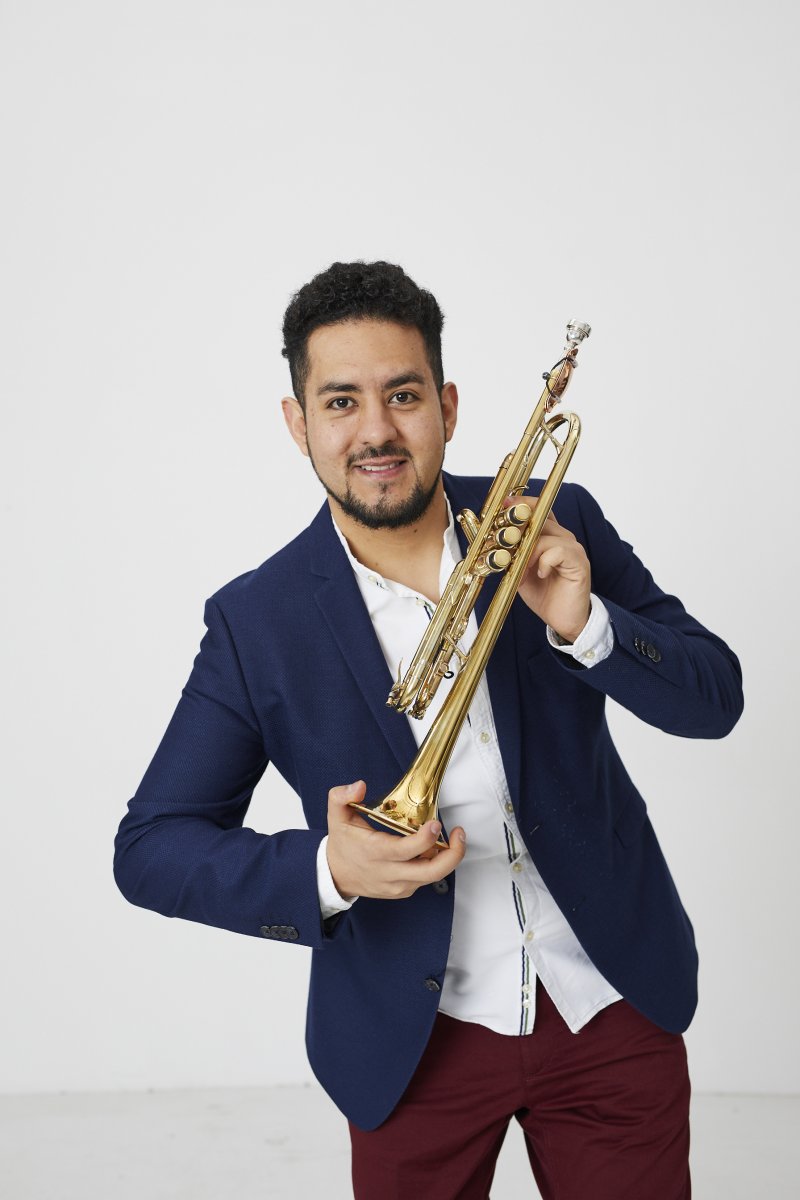 The Mexican trumpet player Geo del Valle began his music studies at the age of 8 under the guidance of his father (trombonist). Before completing his studies at the FAM - UNAM (Mexico), he was accepted at the Hochschule für Musik und Tanz Köln (Germany) in order to finish his studies.Geo plays different styles of music and works as a freelancer in Germany and Europe.He has experience playing in different orchestras such as: Orquesta del teatro de Bellas Artes, OFUNAM, Klassische Philharmonie Bonn,Kammerphilharmonie Rhein-Erft.He has also accompanied popular music singers such as Lila Downs and Kike Neira. In the course of his musical career he played on various stages such as Berlin Konzerthaus, Jazz Schmiede, North Sea Jazz Festival, Palacio de Bellas Artes, Düsseldorf Festival, Auditorio Nacional, Kölner Philharmonie and many others.He plays currently with the "Neue Rheinische Kammer Orchester", is trumpet teacher at the Musikschule Düren (Germany) and leads trumpet improvement courses in Mexico.Geo is trumpet player of the Latin jazz ensemble "Los Pipos" with which he recorded their first studio CD "HILOS".Perseverance is a key quality that he uses for his growth, which inspires him every day to keep moving forward and share his music
Andrew Jeng
USA/ Taiwan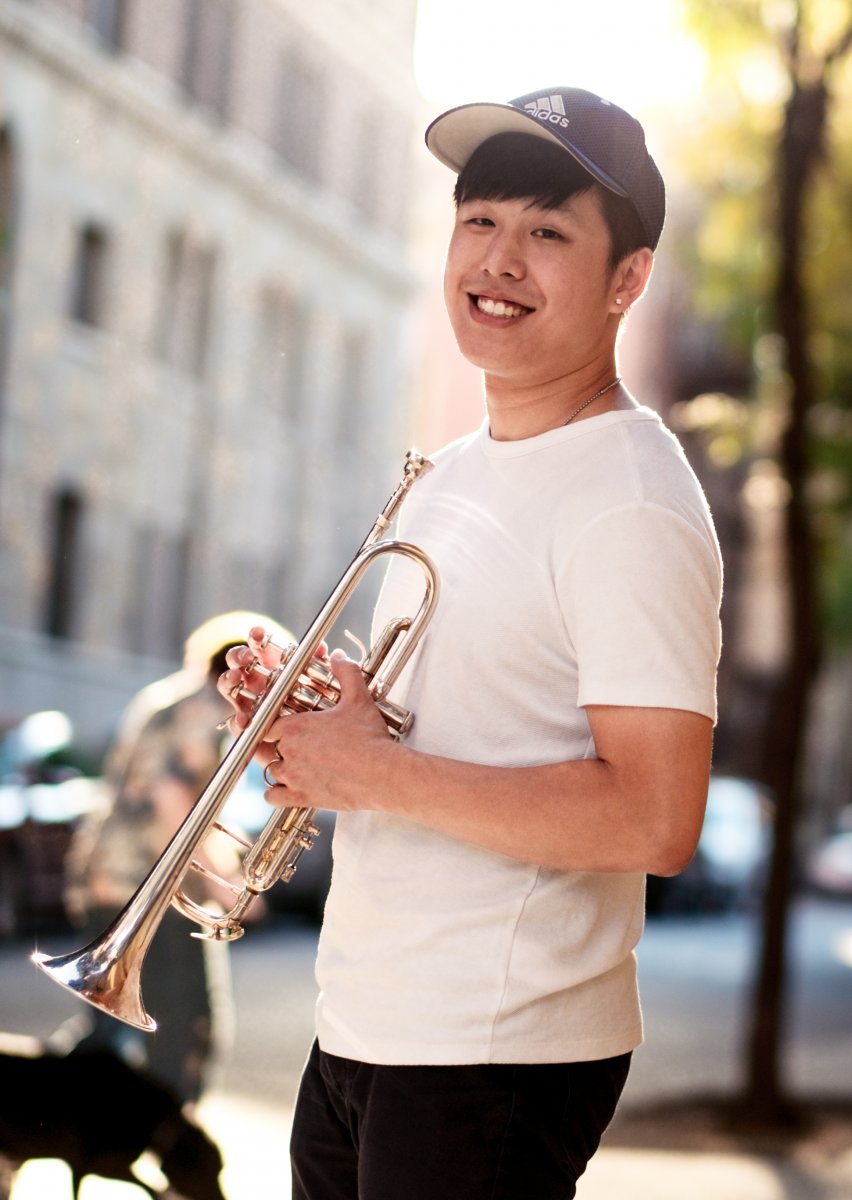 Andrew Jeng, originally from Taiwan began his career by joining the Hangzhou Philharmonic as an Associate Principal in 2019. He received his bachelor's degree at the Oberlin Conservatory, where he studied with Roy Poper and was the recipient of the Jimmy Stamp Award. He received his master's degree at the Juilliard School, where he studied primarily with Mark Gould, and Ray Mase. As an active orchestral player, Andrew performed with many prestigious groups and conductors in venues like the Carnegie Hall, David Geffen Hall, Alice Tully Hall, the Hollywood Bowl, Hangzhou Grand Theater, Shanghai Symphony Hall, and many others.Andrew is currently pursuing a doctorate degree at the University of Cincinnati under the tutelage of Dr. Michael Mergen and Phil Collins, former principal trumpet of the Cincinnati Symphony orchestra.

Christopher Keach
USA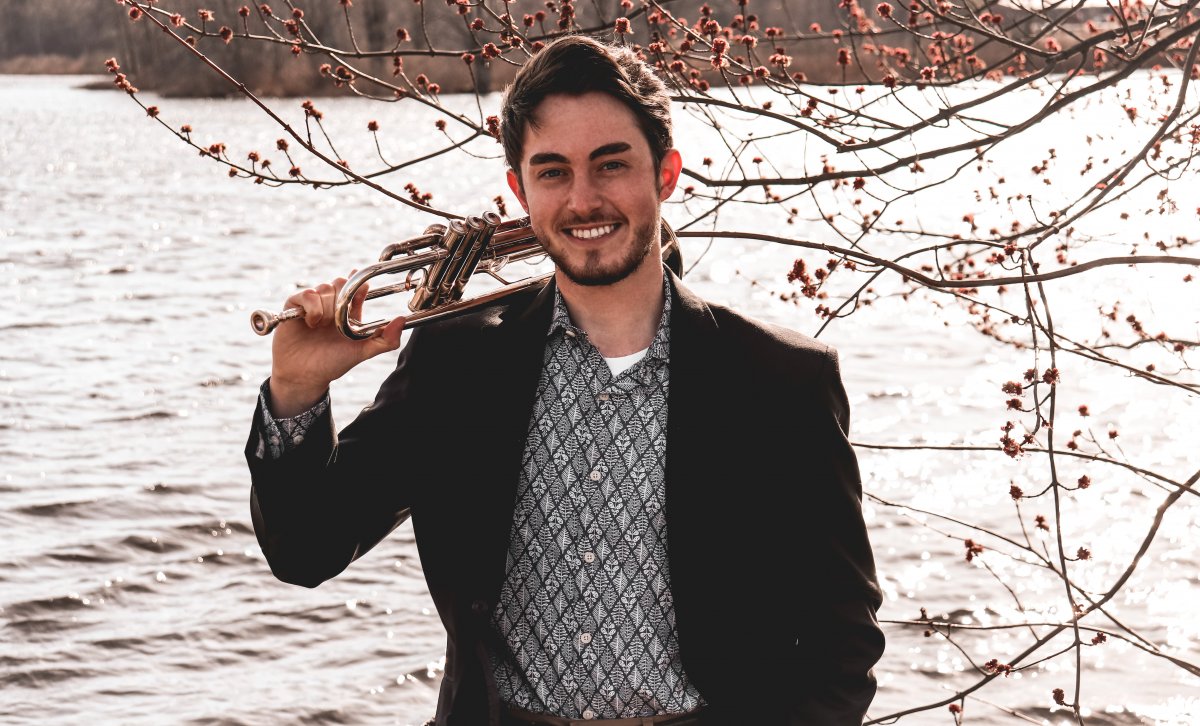 Christopher Keach is currently pursuing his MMus degree in trumpet performance at theSchulich School of Music in the studio of ProfessorRichard Stoelzel. He holds a B.M. inTrumpet Performance and B.M.E. from The Crane Schoolof Music at SUNY Potsdam, where hestudied with Dr. John R. Ellis. Throughout the courseof his studies, he performed with groupsincluding the Northern Symphonic Winds and the Orchestraof Northern New York, where heperformed as a featured soloist. Christopher has participated in various masterclasses with artists such as Anthony Plog, Jeroen Berwaerts, Caleb Hudson, Jim Wilt, and Nikki LaBonte, and was a finalist in the first Trumpet Multitrack Competition. Christopher was the recipient of the2020-2021 International Grant Writing Competition for Music Performance at McGillUniversity.

Aleksander Kobus
Poland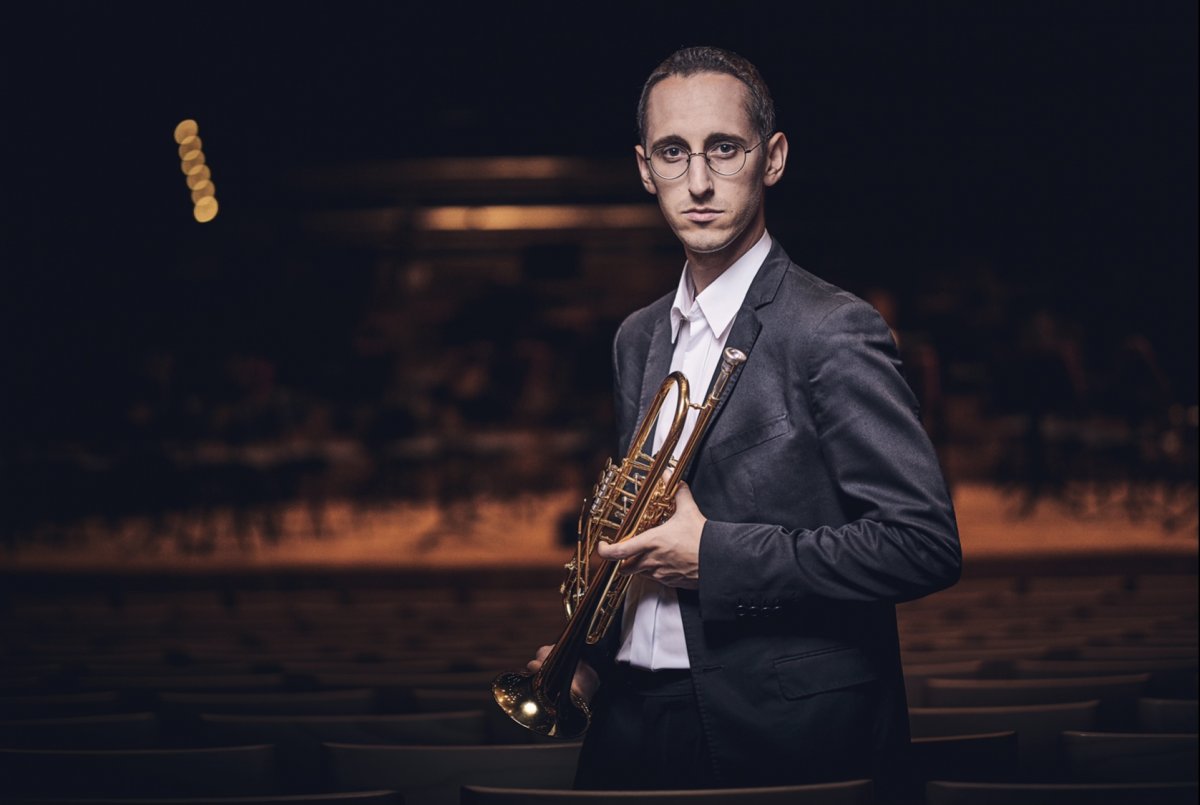 Aleksander Kobus was born 1991 in Warsaw (Poland). He won Special Prize in ARD trumpet Competition in München in 2018 and 2nd Prize at JEJU Brass Competition 2019 in South Korea. Since 2017 principal trumpet player in NFM - Wrocław Philharmonics. In 2019 aquired PhD degree (trumpet class of prof. Igor Cecocho) in Karol Lipinski's Music Academy in Wrocław, where currently he is teaching trumpet.
Aleksander was improving his solo and orchestral skills learning with many prominent trumpet players. He also participated in many musical courses and received scholarships. At present he studies in UdK Berlin under Prof. Gábor Tarkövi.
Christopher Moran
Australia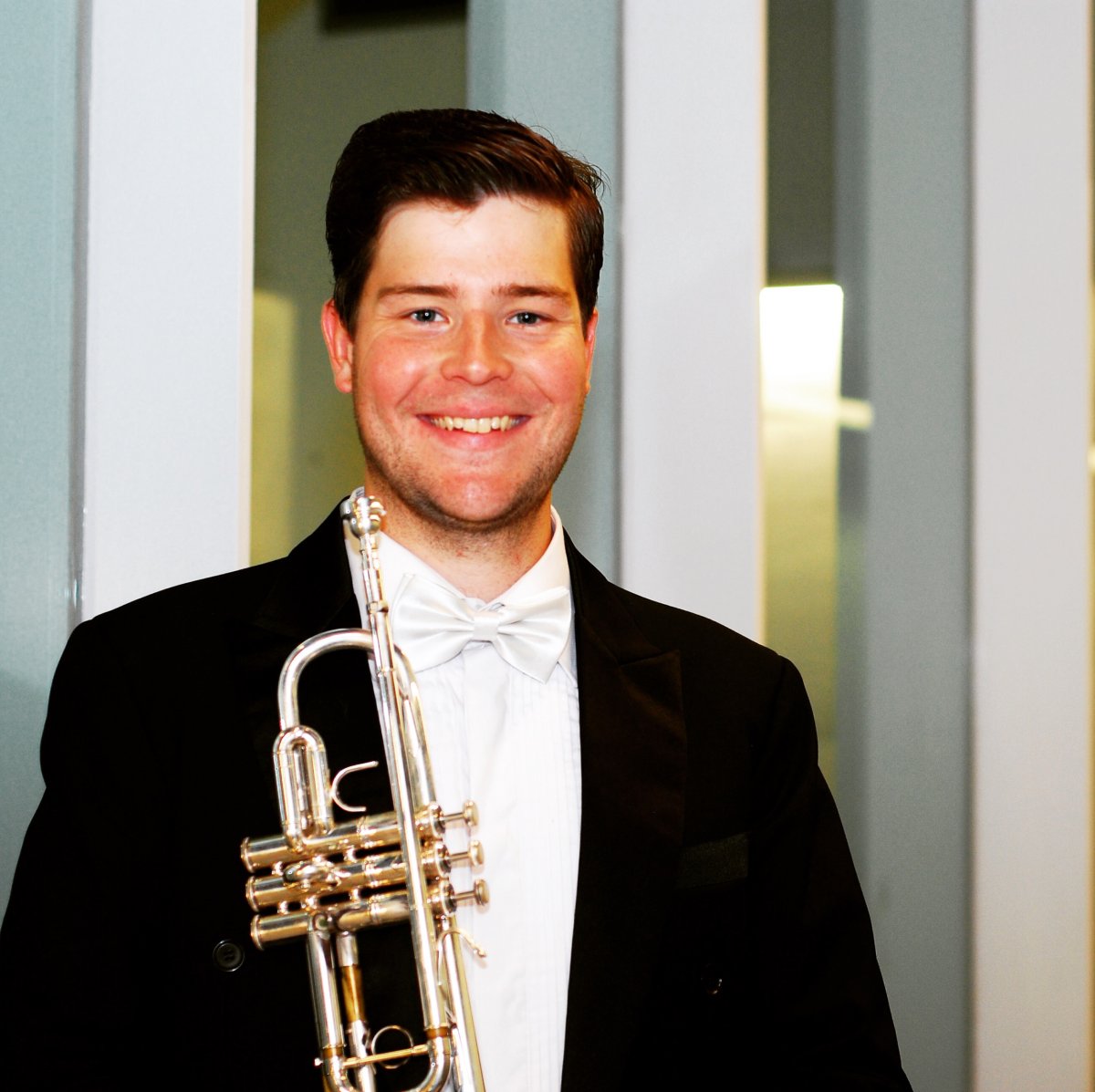 Born in Sydney, Australia, Chris Moran completed his Masters of Trumpet Performance at McGill University in Montreal, Canada. He has performed with the Montreal Symphony, Sydney Symphony, Australian Opera and Ballet, Calgary Philharmonic, The Metropolitan Orchestra and The Orchestra Now. His teachers include Dave Elton, Daniel Mendelow and Paul Merkelo, who he met through the participation of the Music Academy of the West in 2013, 14 and 16. As a member of The Orchestra Now, he has performed professionally all-around New York City, including both Carnegie Hall and the Lincoln Centre. In 2009 he received his Licentiate Diploma of Trumpet Performance from the Trinity College of London. In 2012 he was selected for the Aldeburgh World Orchestra, performing in the Olympics, Germany, Amsterdam (Concertgebouw) and London (the Proms). In 2012 he won the National Trumpet Title for the 7thyear in a row, and went on to become the Australian Brass Champion of Champions, being the first trumpeter to ever win the title. Chris can now be found sharing his knowledge on all things trumpet at the Kings School, and Ascham and performing as Principal Trumpet with the The Metropolitan Orchestra.


Alan Tolbert
USA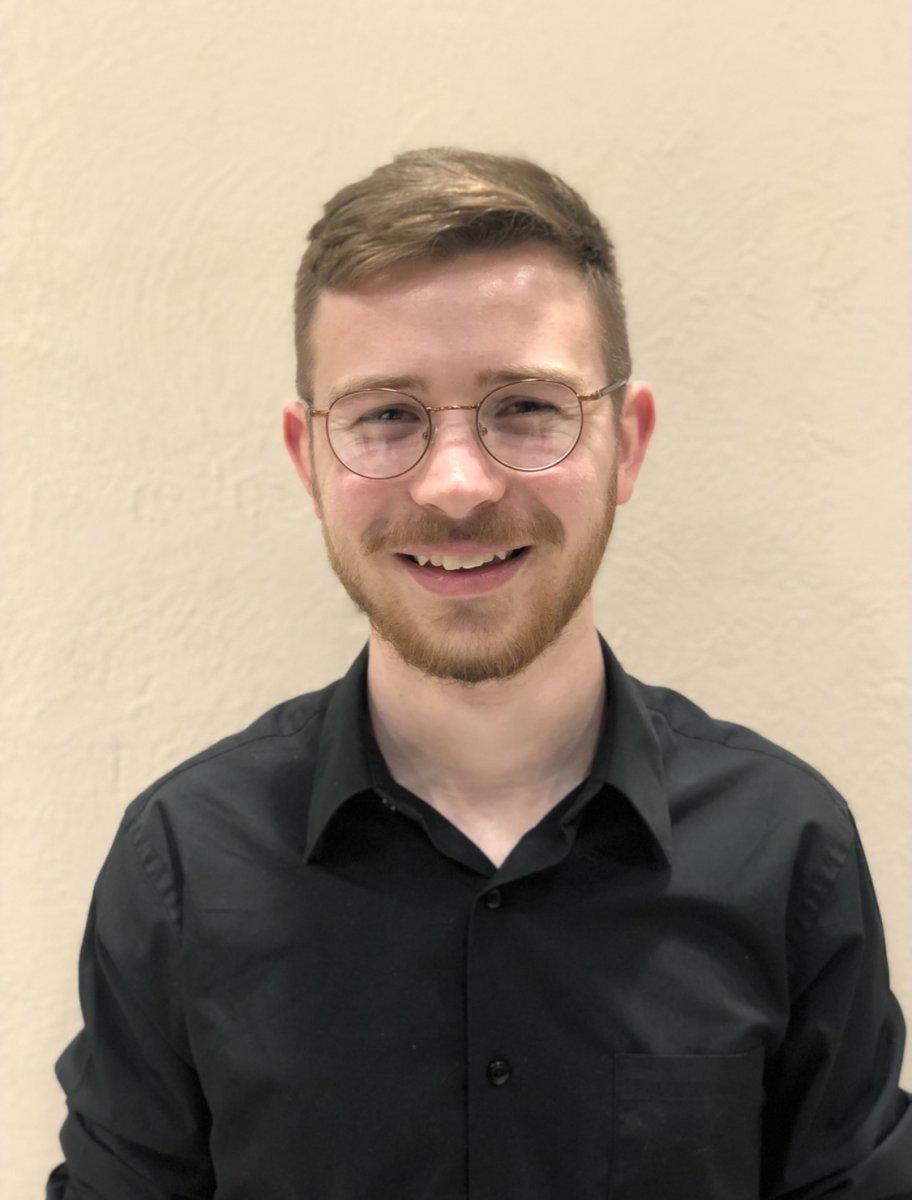 Alan Douglas Tolbert of Shippensburg, PA has established himself as one of the most accomplished young
brass players in the United States. Alan currently studies at the Curtis Institute of Music in Philadelphia, PA, under
the tutelage of David Bilger, Principal Trumpet of the Philadelphia Orchestra. In May 2020, Alan received his
bachelor's degree in Trumpet Performance from the Boyer College of Music and Dance at Temple University in
Philadelphia, PA, where he also studied with David Bilger. His teachers also include Mark Gould, Anthony Prisk,
Ray Mase, Chris Gekker, Trever Famulare, and Mark Wilson.
Alan recently won the position of 2nd Trumpet with the York Symphony Orchestra in York, PA in January
2021. Along with Alan's position in the York Symphony, his orchestral career includes Substitute Trumpet positions with the Richmond Symphony Orchestra, as well as the New World Symphony Orchestra and Symphony in C. Alan was awarded one of few highly coveted Tanglewood Trumpet Fellowships by members of the Boston Symphony Orchestra, the parent organization of the Tanglewood Music Center, in both 2019 and 2020. Alan was a featured soloist on Toru Takemitsu's piece for solo trumpet, Paths, in the 2019 Tanglewood Music Center Festival of Contemporary Music. His previous summer festival study includes the 2018 Aspen Music Festival and School and the 2017 Eastern Music Festival. In 2018 and 2019, Alan was a participant in the New York String Orchestra Seminar, a prestigious program that features some of the most talented young orchestral musicians in concerts in Carnegie Hall in New York City.
ORCHESTRA COMPETITON
High School
Dasara Beta
USA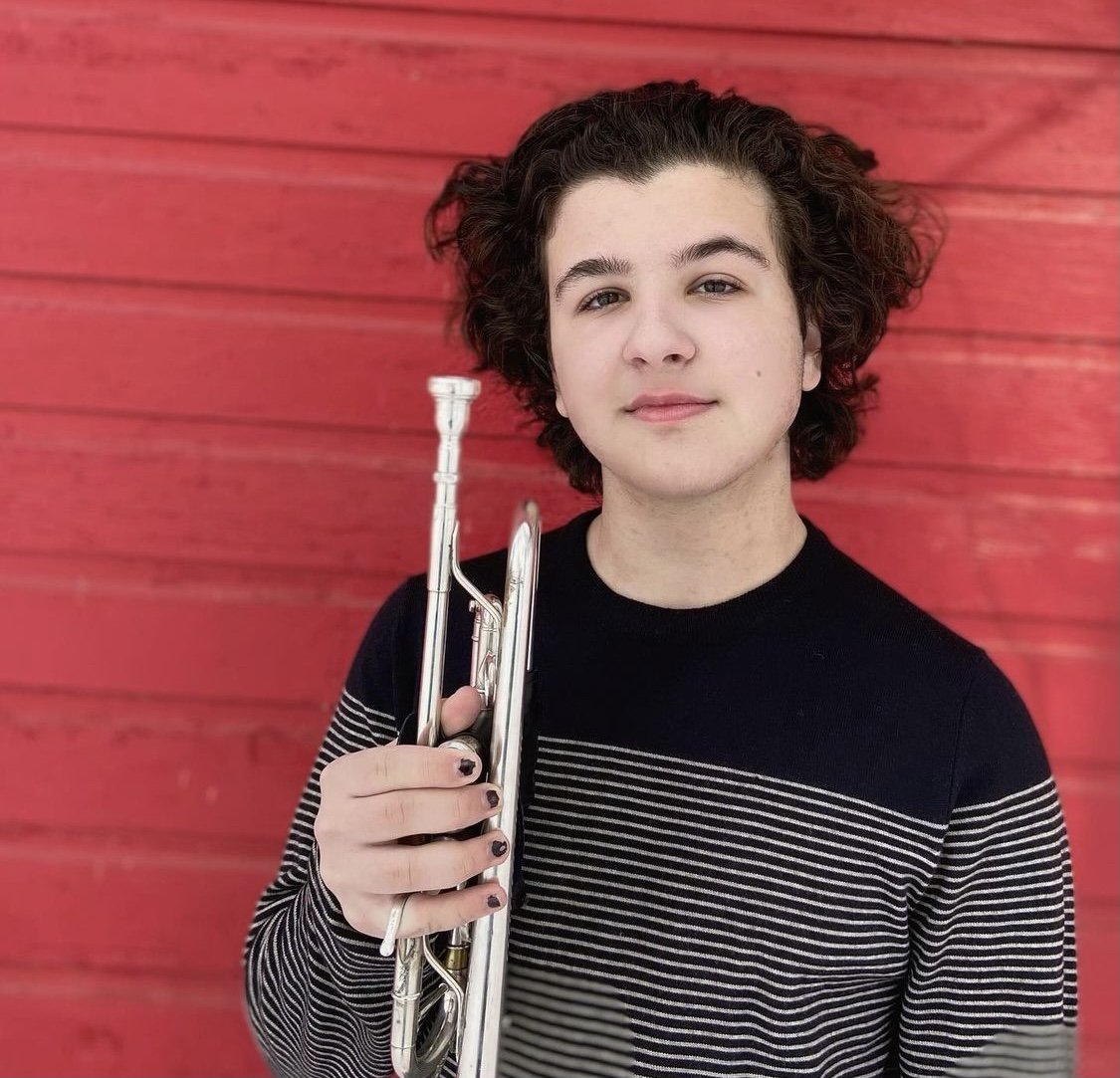 Dasara Beta is a 16 year old trumpet player from Cleveland, OH, USA. He participates in many honors ensembles such as the Carnegie Hall National Youth Orchestra of the United States of America, the National Association for Music Education All-National Honor Orchestra, and the Cleveland Orchestra Youth Orchestra. He currently studies under Richard Pokrywka and plans to audition for conservatories as a performance major in the near future. Dasara has previously competed in solo competitions, such as the National Trumpet Competition in 2019 in which he was a junior division semi-finalist. In his free time, Dasara enjoys listening to music, going on walks, and playing the guitar.

Henry Bain
Canada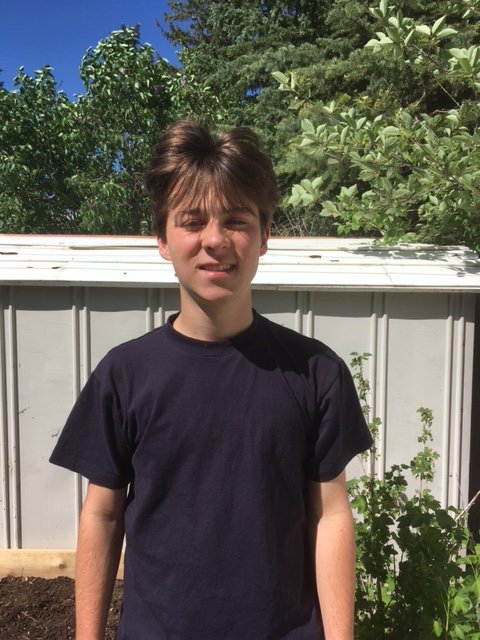 Henry has been playing the trumpet for almost 8 years. He has really enjoyed playing in the Jazz Band and the Concert Band at his high school. He has competed in numerous Kiwanis festivals, and also played in the Alberta Jazz ensemble. Summer band camp and school band trips are among his favourite musical activities so far. Currently Henry is taking lessons from Dr. Josh Davies. Outside of playing the trumpet Henry likes to play basketball and badminton. He also likes hiking in the Rockies, and fly fishing. In the Fall, he is very excited to start university in person.

Jacob Hammarlund
USA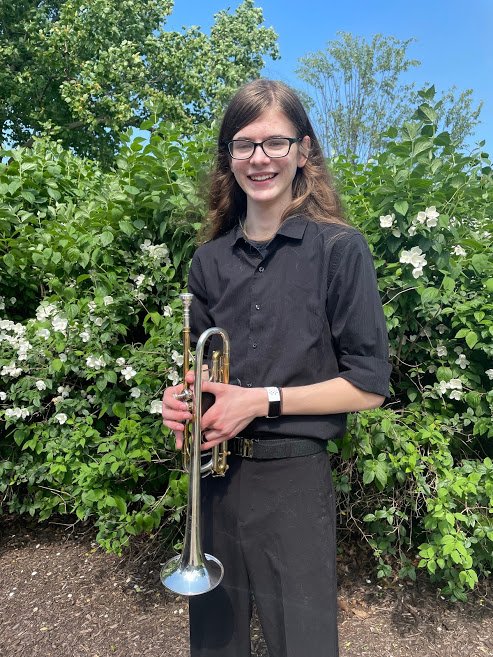 Jacob Hammarlund is a native of Cleveland, Ohio, and currently attends Rocky River High School. He participates in his school's jazz ensemble, pit orchestra, and marching band along with the Cleveland Youth Wind Symphony and the Cleveland Orchestra Youth Orchestra. He has been playing trumpet for six years and piano for ten. After graduation, he plans to pursue a career in the musical arts. His favorite composers include Claude Debussy and Igor Stravinsky.
Undergraduate
Noah Bailis
Canada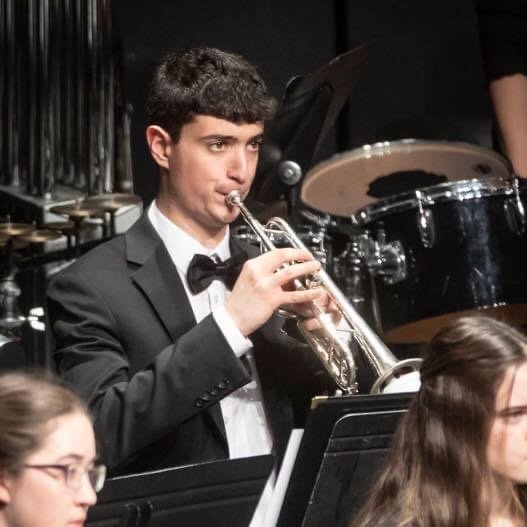 Noah Bailis is a trumpet player from Winnipeg, MB., Canada. He successfully auditioned for the Orchestral Trumpet Performance program at the Schulich School of Music of McGill University in Montréal QB. in 2019, and is now looking forward to his third year at the school beginning in September. Noah has been a member of many extracurricular ensembles, including but not limited to; the Winnipeg Youth Symphony Orchestra, the National Youth Band of Canada (2018, 2019), and seven Manitoba Honour Bands. He currently studies privately at McGill University with Prof. Richard Stoelzel, and studied under Jeni Taylor as well as Paul Jeffrey of the Winnipeg Symphony Orchestra while in high school. Noah was the winner of the 2018 Winnipeg Wind Ensemble Solo Competition and performed as a soloist with the ensemble. He is the recipient of the 2021 ITG Keith Clark Memorial Fund Scholarship. Noah is looking forward to a career in orchestral performance following the completion of his post-secondary studies.

Josh Harris
USA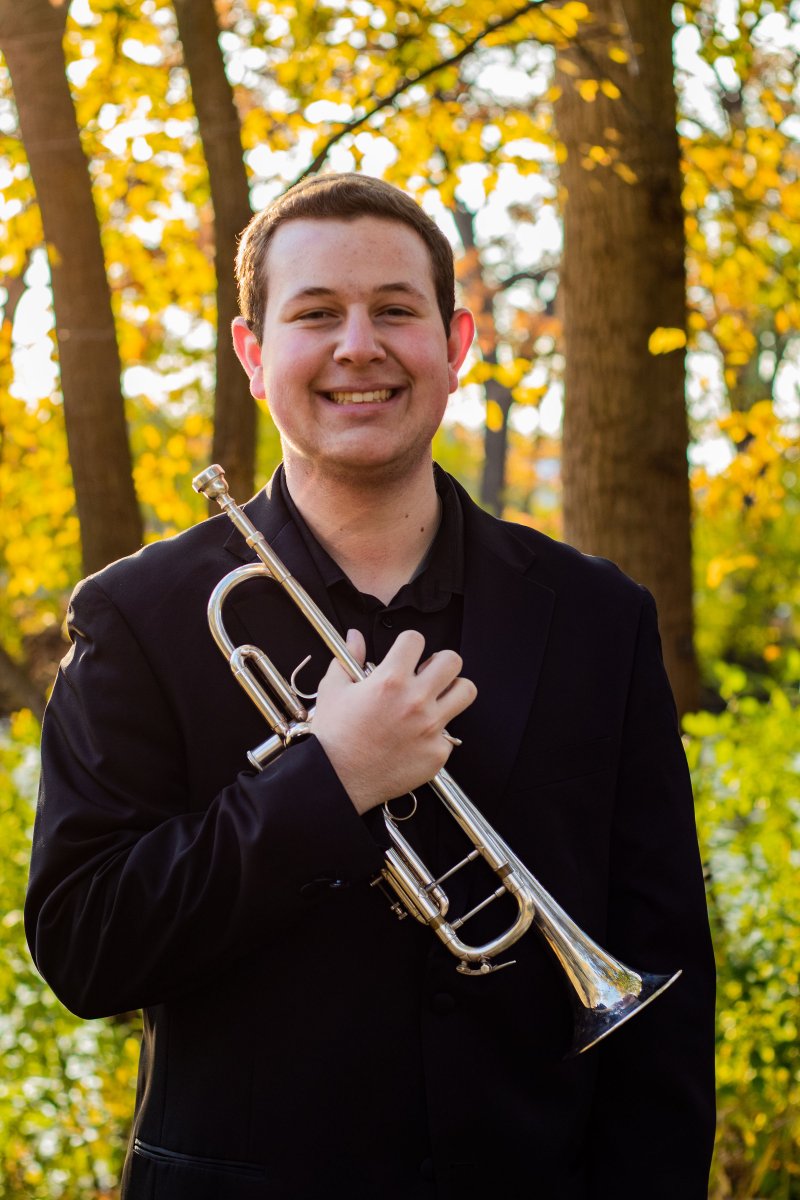 Joshua Harris is an Undergraduate Music Performance Major studying at Michigan State University. Josh has been a member of several festivals, including the Fresno Opera/Orchestra Summer Academy, the Rafael Mendez Brass Institute, and the Sewanee Summer Music Festival, where he performed with the faculty quintet. He is also a founding member of the Red Cedar Honors Brass Quintet. Recently, Joshua became a semifinalist in the National Trumpet Competition Solo Division and won the Michigan State Unaccompanied solo competition. He is also a recipient of the International Trumpet Guild "Ryan Anthony" Scholarship. His teachers include Justin Emerich and Lloyd Ellis.

Karol Korus, Poland
(see under Solo competition)

Carlos Vidal, Mexico
(see under Solo competition)
Graduate
Kyle Jones
USA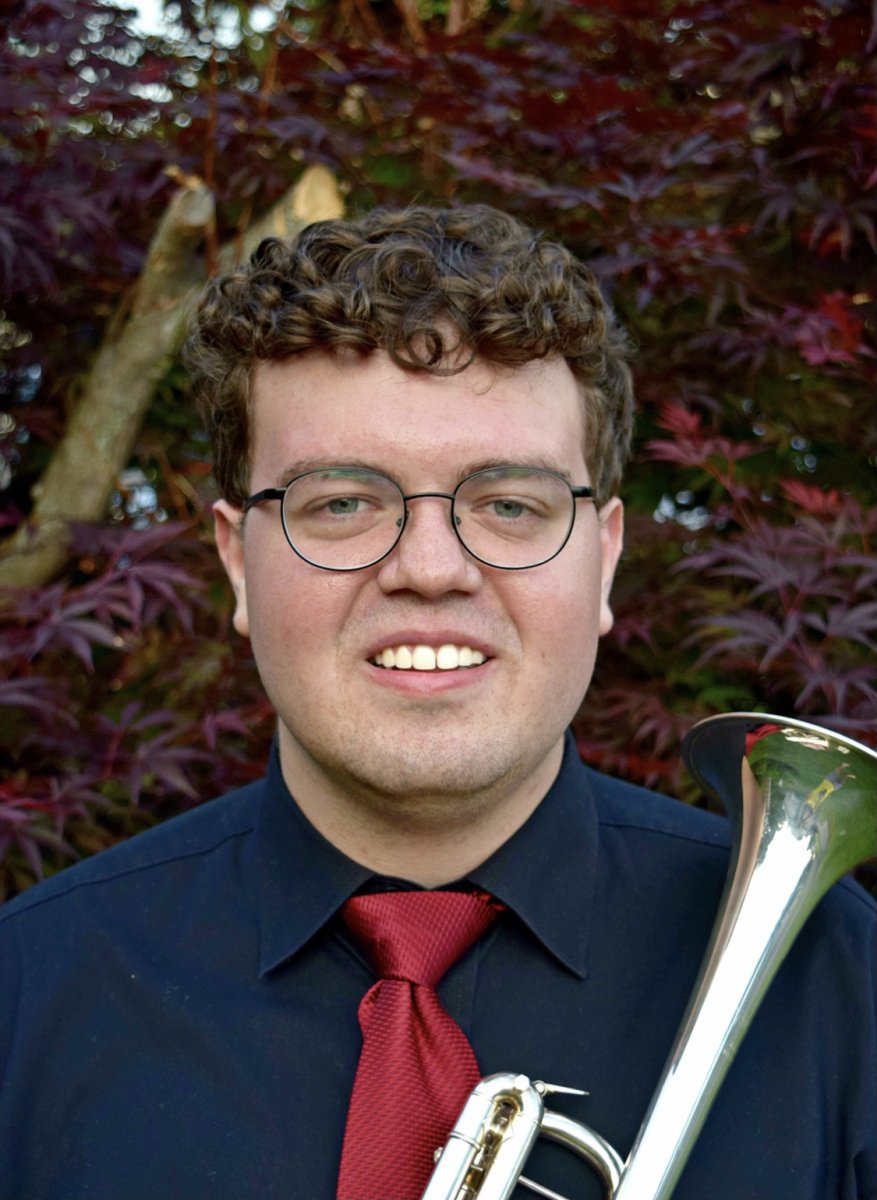 Kyle Jones has a strong passion for both performance and music education after being inspired by his teachers. Kyle Jones holds a bachelor's degree in Music Education from Syracuse University with Performance Honors where he studied with John Raschella. While at SU, Kyle has performed with the marching band, jazz band, wind ensemble, symphony orchestra, opera, baroque ensemble, brazilian ensemble, and steel band. He will be attending McGill University's Schulich School of Music to pursue a Master of Music degree in performance studying with Richard Stoelzel. Outside of music, Kyle enjoys reading classical literature and studying American novelists. Kyle Jones is a Syracuse, New York native. He is currently a substitute player for Syracuse's Symphoria.


Aleksander Kobus, Poland
(see under Solo competition)

Charlie Watson
Canada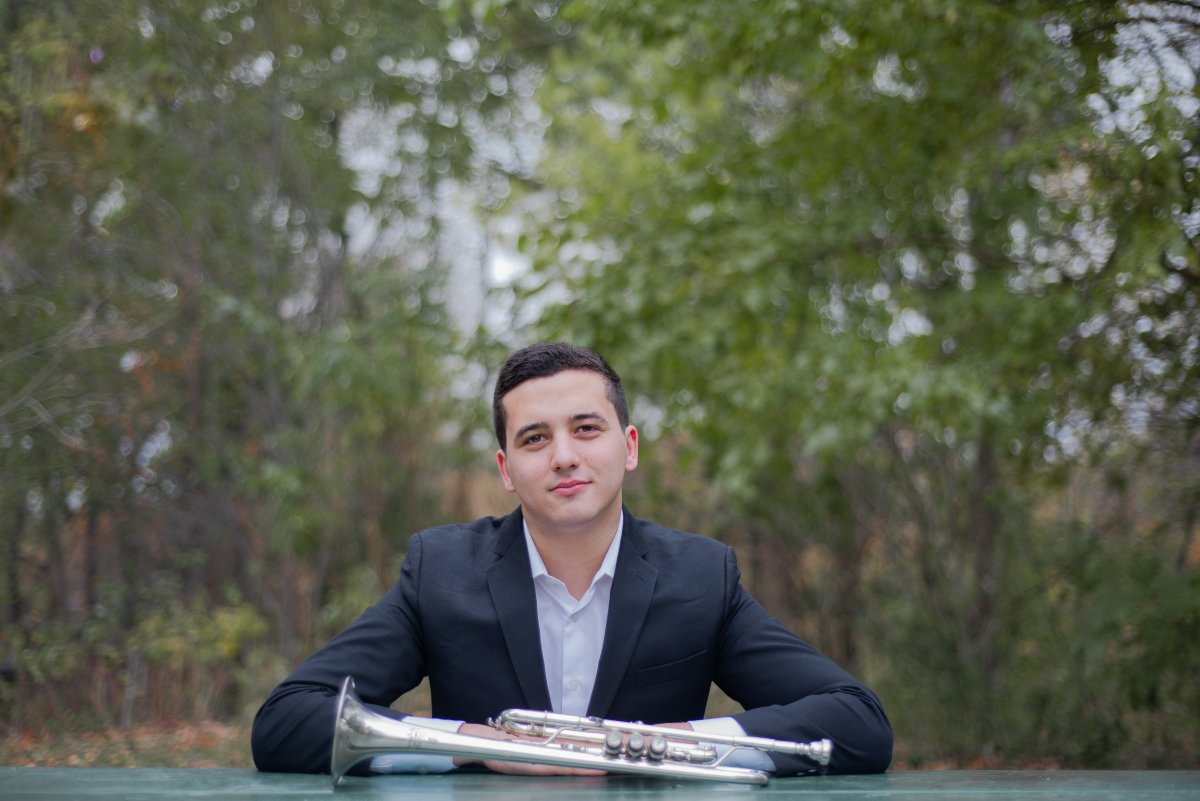 Originally from Ottawa, ON, trumpeter Charlie Watson graduated from the University of Toronto with a Bachelor's of Music in Performance in June 2020. His primary teacher was Barton Woomert and took additional lessons with Anita McAlister, Karen Donnelly, James Spragg, and various others. During the final year of his degree, he was selected for a trial position for second trumpet with the Canadian Opera Company, and performed with the group in early 2020. Mr. Watson has performed with groups such as the National Arts Centre Orchestra (including with their Brass Quintet) and the Hannaford Street Silver Band. Charlie was also a semifinalist in the 2020 OSM Competition, placed third in the 2019 NACO Bursary competition and won the Hannaford Youth Rising Stars competition, allowing him to perform as a soloist with the Hannaford Street Silver Band. He is also an alumnus of the National Youth Orchestra of Canada in 2019 and 2020, touring Canada and Spain in 2019.

Alan Tolbert, USA
(see under solo competition)
Jazz Competition
Brandon Choi
USA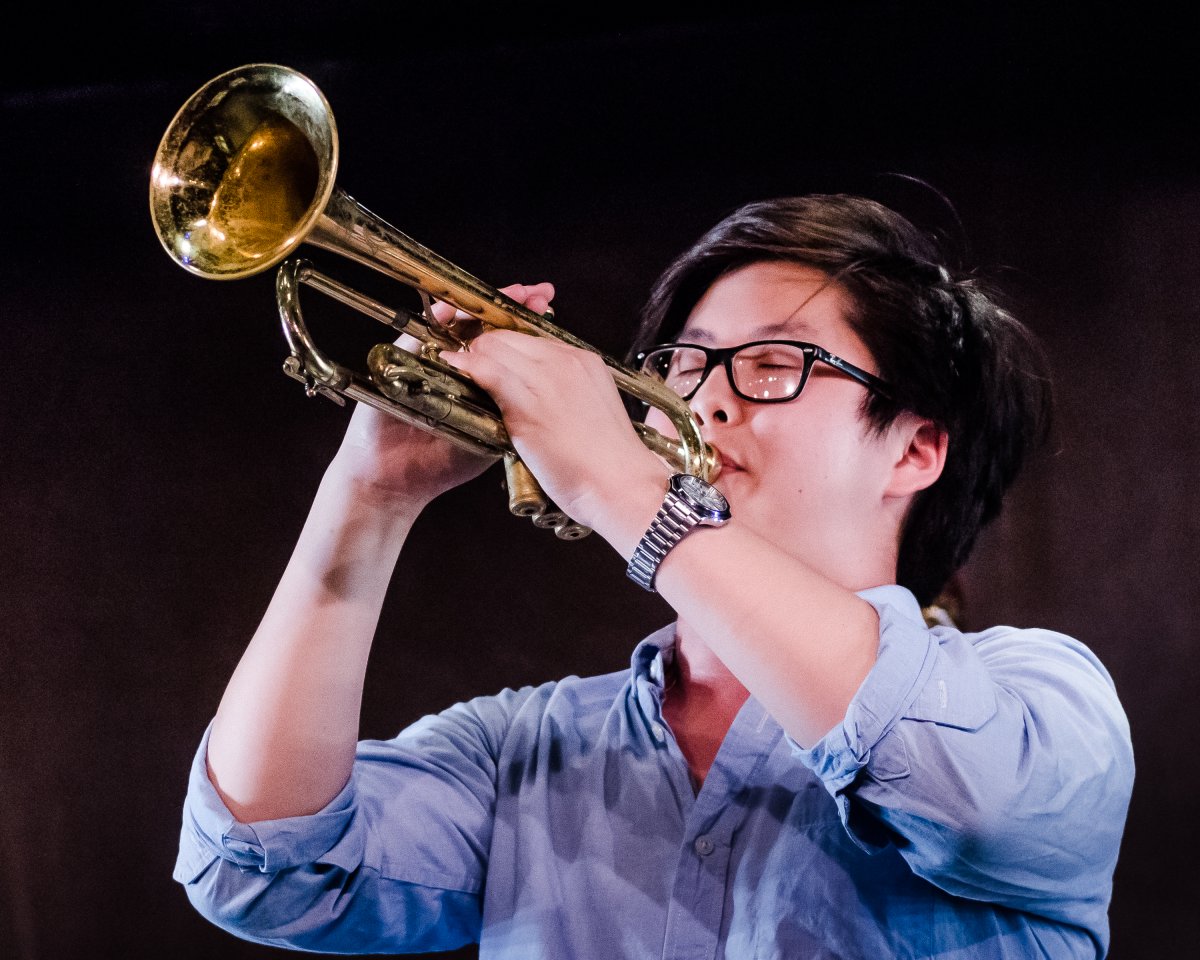 Brandon Choi is an improvising trumpet player. A recent transplant to New York City, he enjoys making music and sounds with the kindred spirits he's found there. Brandon is enjoying a burgeoning career as both a performer and composer, having had the distinct pleasure to make music with luminaries such as Miguel Zenon, Ingrid Jensen, Joe Martin, Jim McNeely, and Bill Holman. Brandon draws on his experience as an in-demand freelancing trumpeter all across Upstate and Western New York, as well as the rich experiences garnered at the Eastman School of Music, in his current and future endeavors. In 2019, Brandon placed first in the ITG Jazz Trumpet Competition. Brandon considers himself fortunate for every opportunity to connect, through sound, with all those around him.